Latest Arrival Model for Android, can take Photo, video and Sound recording, and the photos & video file will directly stored in your Android mobile phone, the whole process of record check, convenient observation and follow-up analysis.

There's also a turning wheel used for adjust the brightness of six LED lights so that work in some area without enough light. It is IP67 Waterproof Camera. With a MICRO to USB line, It can also be used for computers.

Ideal for intraoral camera system, underwater camera, waterproof Micro-cameras, motor vehicle detector, sewer pipeline detector, search and rescue, criminal and custom detector and so on..!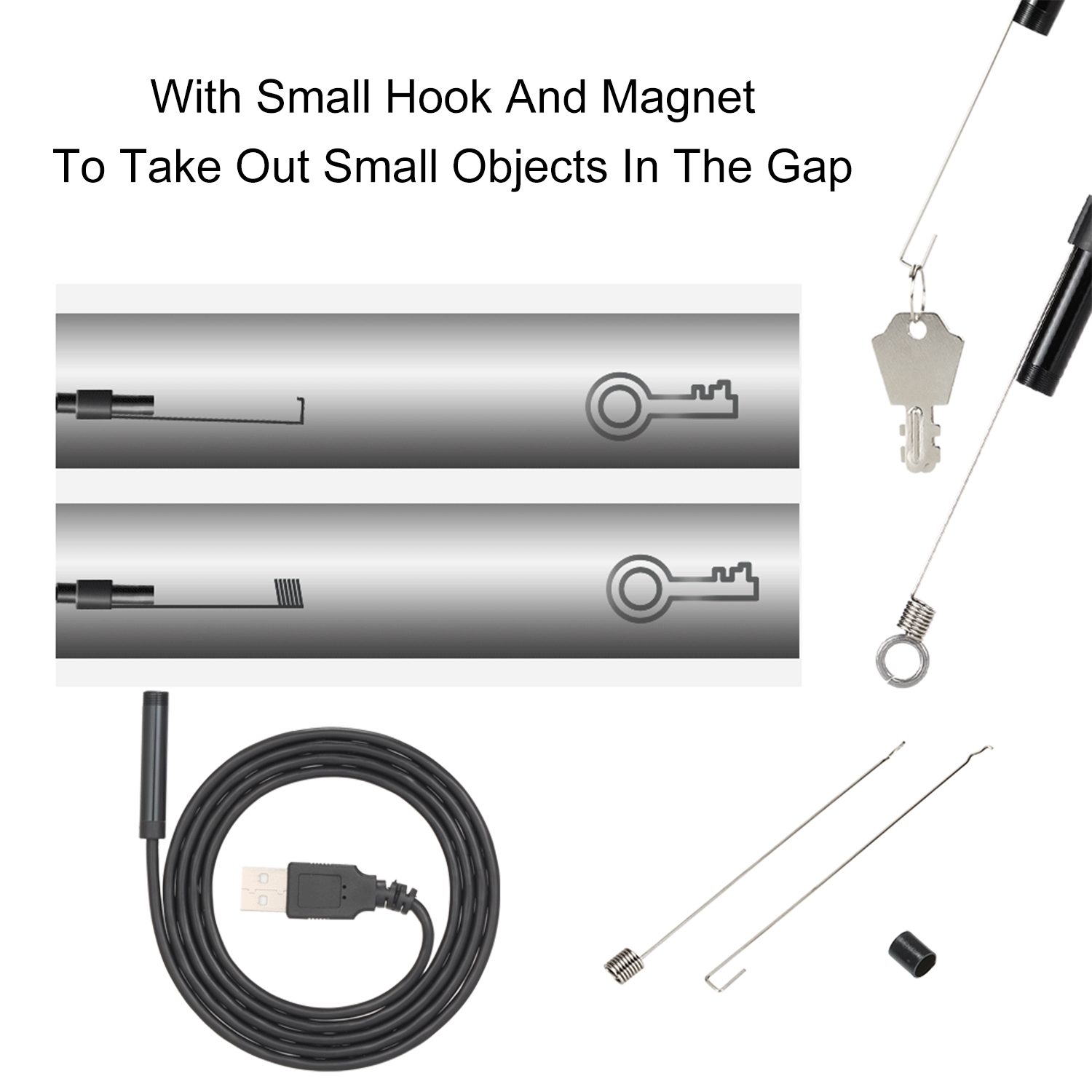 USER METHOD & SPECIFICATIONS
Scan the QR code on the Manual to install APP, or from CD install APP ,or download link to install APP ,then an icon appears on mobile desktop, click on the icon, the product is available to use.

It's very easy to operate this android endoscope, just download an App and inserted the endoscope in your device, the App will automatic recognition it, start to use now !

We provide three software for everyone to choose, more convenient for your use,.And the phone can be used to get more models

High resolution with 1/9 CMOS camera. with Built-in 6 LED light

Waterproof wire endoscope.

With a 5.5mm camera head.
1 * Mini USB Endoscope Camera
1 * Small hook
1 * Magnet
1 * Side audition
1 * fixed set
1* Micro to USB line
1 * Manual

Camera head outer diameter: 5.5mm.

Pixels: 300000 pixels

Resolution: 640*480p 30 ftps.

LED: 6 White LED Bright light.

Focal distance: 3cm-8cm.

Waterproof level: IP67.

WHAT OUR CUSTOMERS SAY ABOUT US!

" Parcel successfully arrived to Ukraine in 2+ weeks. all as described. best regards to seller. working app for android usb camera."

"Very nice, Like this camera come with 2 m length has a good and the quality is also good depending on the distance you are using "

"The camera will go to look in a hard-to-reach place, or get something out of the slot. LEDs shine the image in the photo can be seen. "
"The camera on the honor phone works only with the better vision app. The app downloaded from the phone through the browser. The camera is happy. Thanks! Highly Recommend!!